Door County is the ideal family vacation destination and many of the restaurants in the county cater to family dining.  Door County has been an annual vacation destination since I was a kid and we have enjoyed visiting several times per year since our kids were born.  Our family worked together to create a list of Top Five Family-Friendly restaurants, and it proved difficult, so we present to you a Top Seven Family-Friendly restaurants in Door County with a few honorable mentions.
PC Junction (Bailey's Harbor)
Hands down the best family restaurant for families with younger children is PC Junction in Bailey's Harbor. The iconic, train-themed restaurant delivers food via a model train that stops at various table locations laid out in the shape of the Door Peninsula. Each table is marked by an actual door that has been named after a town along the Door County Peninsula.
When the train is not delivering food, the staff loads it up with action figures, dinosaurs, Disney Princesses, and our kids' favorite, the bubble machine to keep kids entertained while they wait for the food. The parents will like that the food is not half bad either, which is not always the case for themed restaurants. Reasonably priced burgers and fries and plenty of options for the kids to enjoy. The chili is noteworthy and can hold its own with any other chili found in the county.
There is plenty of seating away from the track, but frankly, I can't imagine coming to PC Junction and not waiting for a trackside seat. We recommend arriving early to get your name on the list and then enjoying the waiting area outdoors.
They have a large play area including a playground, a life-size chessboard, as well as a pedal cart track that helps pass the time while you wait for a table.
PC Junction is by far the most family-friendly restaurant in Door County and is a must for families with young kids!
Check out their website for seasonal dates and up-to-date times of service.
Not Licked Yet Frozen Custard and Sandwich Stand (Fish Creek)
Many people know Not Licked Yet for their custard, but don't overlook their wider menu options, as we did for years. This is a great destination for families as they offer a full playground and they are located next to Fish Creek where children (and adults) can feed the ducks. Plus, you know there is a chance .your kids might eat some protein when they know dessert is waiting for them onsite!
Not Licked Yet has been family-owned since 1982. They serve their burgers and many of their sandwiches on fresh-baked buns. We found this was a great restaurant to put your order in and then let the kids burn some energy on the playground or with the ducks while you wait for the food.
The burgers are fantastic and they offer some creative and fun sandwiches too, like the Angry Ogre which is a grilled chicken breast with lettuce, tomato, red onion mozzarella cheese & cherry chutney on freshly baked bread.
Be sure to save some room for their custard. I read they go through nearly 6 million pounds of milk a season to make their custard! They are open seven days a week from April through October.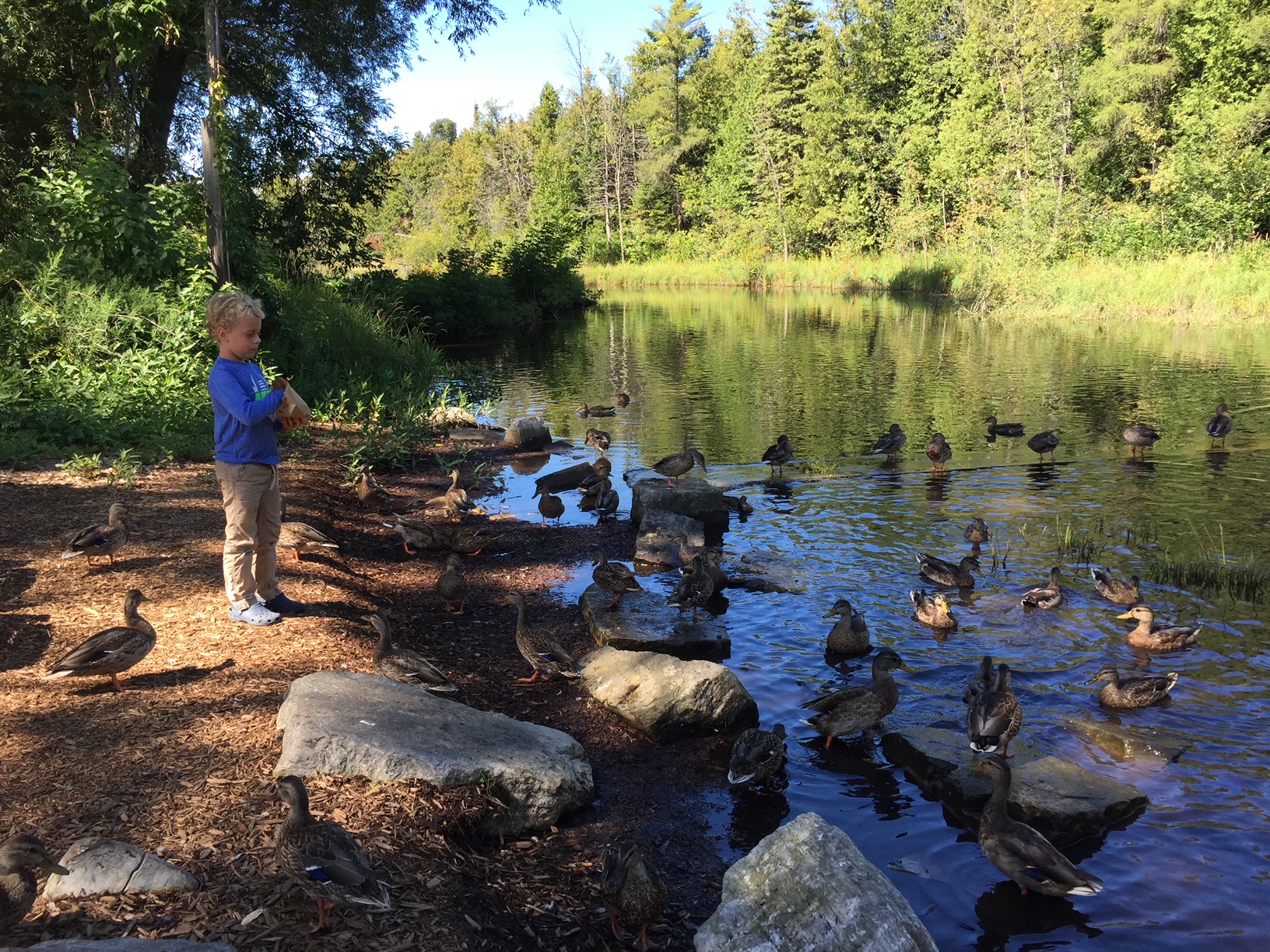 Al Johnson's Swedish Restaurant, Butik & Stabbur (Sister Bay)
Arguably the most famous restaurant in Door County is Al Johnson's. The Scandinavian restaurant is famous for having goats on its roof that can be seen between late May and mid-October. Al Johnson's serves breakfast all day, along with lunch and dinner options with a Scandinavian flair. They are located in the heart of Sister Bay.
Your kids won't mind the wait as they watch the goats grazing on the grass roof. A few years ago Al Johnson's expanded by opening their Stabbur which is a beer garden next door to the restaurant with various activities including cornhole (er, bags to some of you) and life-size Jenga and to keep the family entertained while you wait for a table. No worries if the wait is long, they will build up an appetite that Al Johnson's is primed to serve, the food is delicious. Our family is split with our kids choosing breakfast no matter the time of the day while my wife and I will often flip between breakfast and lunch or dinner options.
As a family, we highly recommend the Swedish Pancakes (with or without lingonberries) and the Swedish meatballs. The waitstaff dresses in traditional Scandinavian garb which adds to the overall atmosphere of the restaurant.
Be forewarned; you may struggle to leave Al Johnson's without a visit to their gift shop where our kids often gravitate to Viking hats or stuffed animal goats, cheaper than a real goat though.
You can check out the goats from the comfort of your home with the Al Johnson's Goat Cams and they also have their own YouTube channel where you can get enjoy "Your Weekly Dose of Goat" episodes.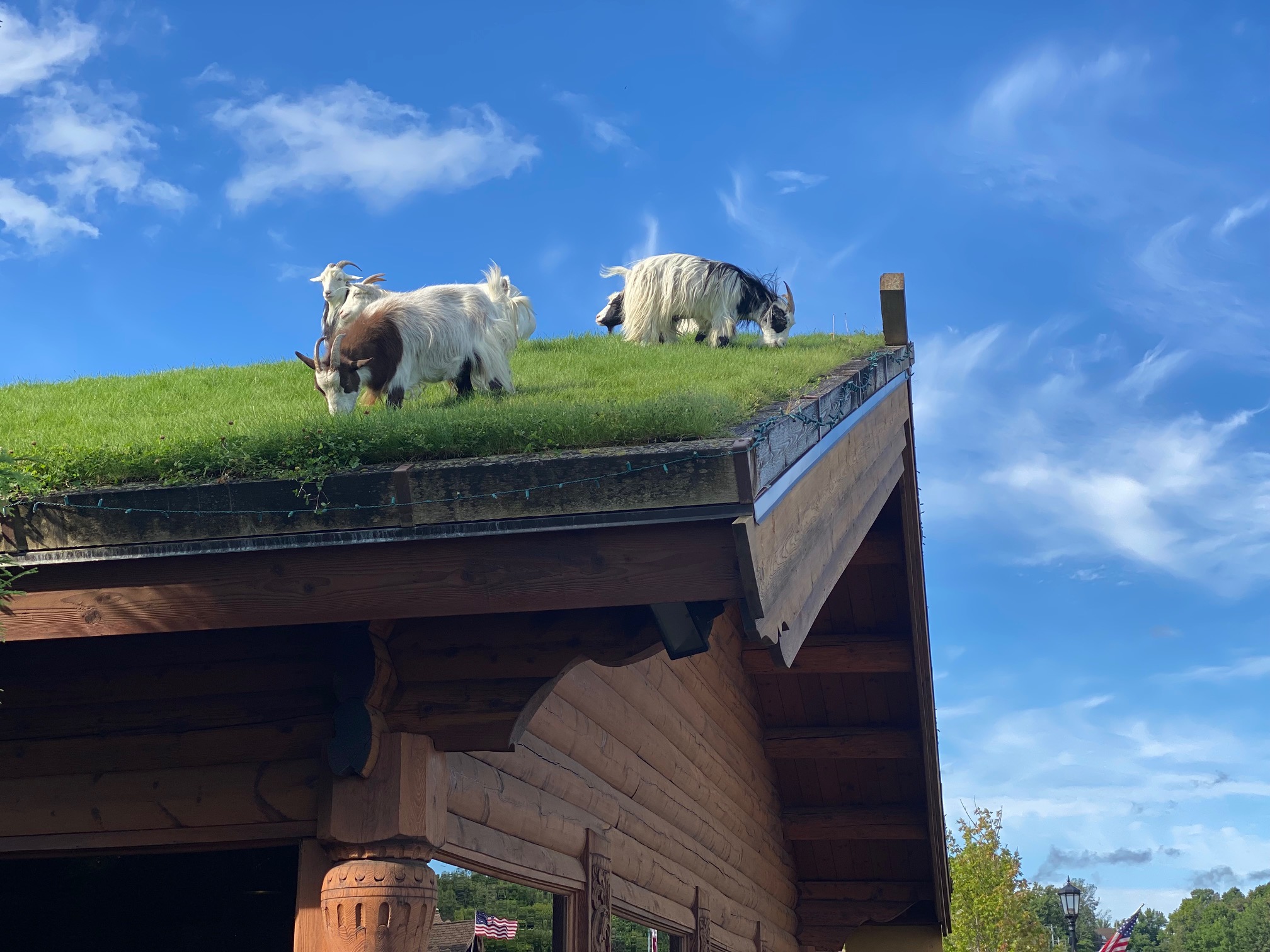 Wilson's Restaurant and Ice Cream (Ephraim)
A trip to Door County is not complete without a visit to the legendary Wilson's, the center of Ephraim since 1906. Our family loves Wilson's and even has a print of Wilson's hanging in our kitchen, so it is always on the top of our minds.
Wilson's is a popular place throughout the summer and high tourist weeks. However, often the lines are the longest for take-out ice creams and treats and you can sneak in and grab a table. So don't shy away if you are looking for a bite to eat. If you eat inside each booth has a mini jukebox at each booth to keep the kids entertained. The wait is usually a little longer for the limited outdoor seating, especially on those nicest of days.
They have an extensive diner-like menu. I typically choose the Rachael Reuben which is excellent. Whatever you choose to eat, we recommend you pair your meal with their home-brewed root beer.
If you dine with them your waitress or waiter will be able to take dessert orders of ice cream, root beer floats, or sodas from their old-fashioned soda fountain. We typically take our ice cream to go and then enjoy it while looking at boats in the Ephraim Harbor or visiting the neighboring park.
Each ice cream served in their waffle cones comes with a jelly bean at the end, which is a favorite of our kids.
They are open from mid-May through mid-October.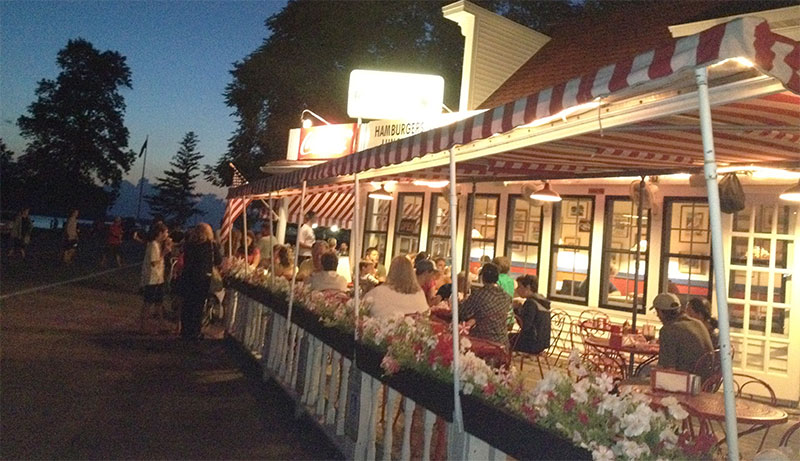 Northern Grill (Sister Bay)
As our kids have grown up and we find that PC Junction no longer holds the same thrill it once did, and we find we eat at the Northern Grill more frequently. Northern Grill is located just south of Sister Bay. They have a decent size outdoor space and plenty of indoor dining that we find we don't often have a long wait for.
They offer a ping pong table, cornhole, and an arcade to help keep kids and parents alike entertained while waiting for the food. Don't forget to put in an order of cheese curds. Our kids will check in often if they know curds are on the way, and the Northern Grill's curds are as good as anybody's in Door County.
The menu has some great variety with plenty of comfort food choices. The menu is broad enough that we had no issue eating there on back-to-back nights without anyone repeating a meal.
Check their website for the seasonal hours of operation.
Wild Tomato (Sister Bay)
Wild Tomato is one of our must-visit restaurants with each visit to Door County. We love the energy of Sister Bay and love that Wild Tomato opened this location in addition to their Fish Creek location in 2014. Wild Tomato offers wood-fired pizzas, salads, and burgers all locally sourced.
Wild Tomato is often busy throughout the summer season so plan to get your name on a list and prepare to wait, they are strategically located right across a parking lot from the large Sister Bay Beach Park in Sister Bay. They offer a lovely outdoor bar stocked with a great selection of craft beers and wines to keep the parents entertained while the kids enjoy the park.
We often toss our name in and then stroll the Sister Bay Marina and enjoy looking at the yachts and sailboats while waiting for our table to be called.
We always order at least one "The Fun Guy" which is a wood-fired pizza with five types of sauteed mushrooms, spinach, and caramelized onions over a garlic cream base. We split that along with a variety of other pizzas to share. They have decent cheese curds and their salads are delicious as well. They do have a kid's Peanut Butter and Jelly Pizza and also buttered noodles.
If you have young kids they will often provide some pizza dough for the kids to play with to keep them entertained.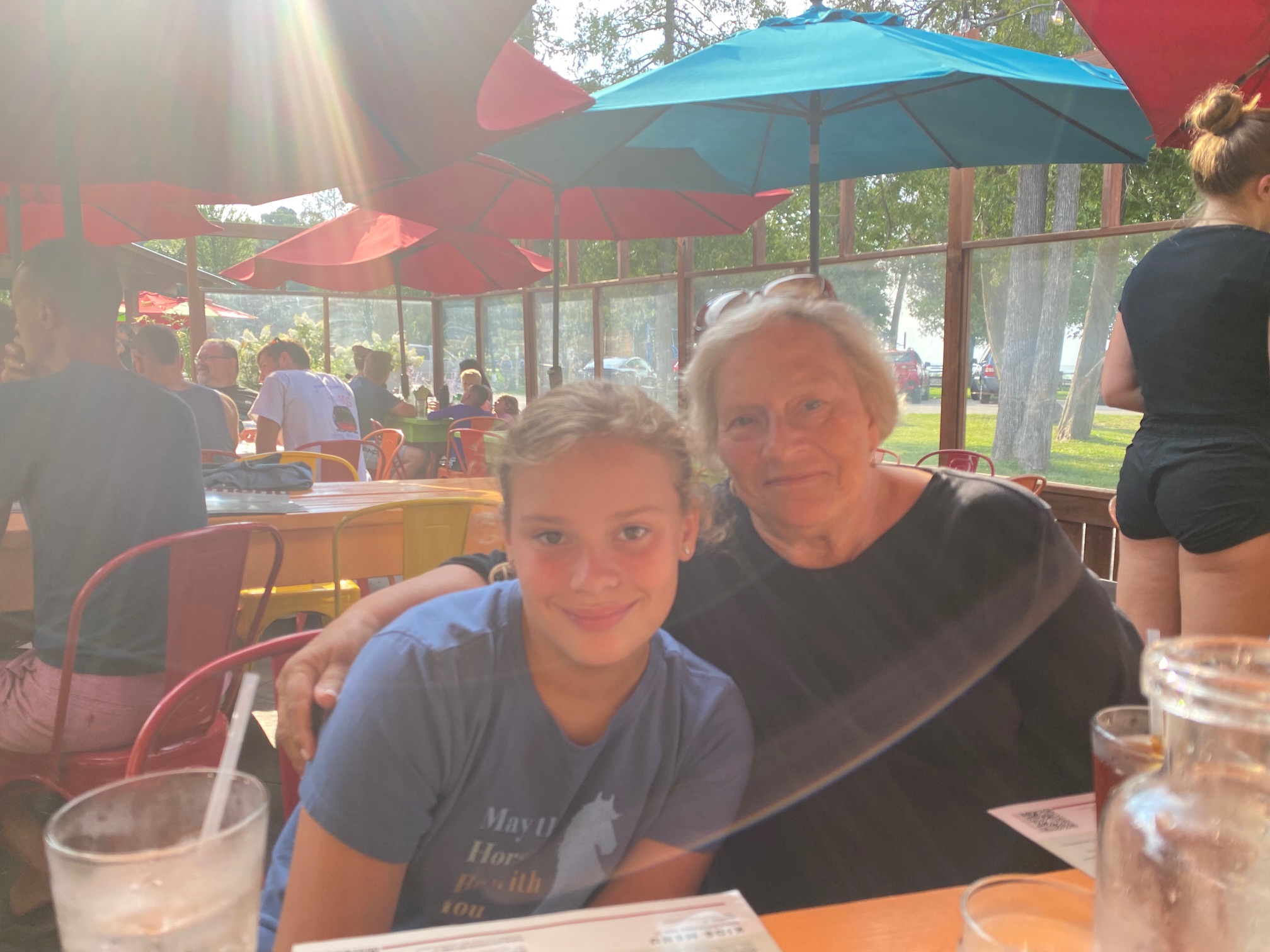 Scaturo's
Last but not least is Scaturo's, a dining fixture in Sturgeon Bay for nearly 30 years. Scaturo's is family-owned by Rob and JoAnne who got started in the food industry on the East Coast, the restaurant has an East Coast and Italian flair, including their New Jersey-style pizza.
We love Sturgeon Bay and Scaturo's is our go-to family restaurant in Sturgeon Bay. We particularly love their breakfast. Plan to arrive early or you might experience a wait of 20 to 30 minutes, but it is well worth it. They have a relaxed casual ambiance with tables in the front two-thirds of the restaurant and picnic tables in a covered outdoor area in the back.
You cannot leave Scaturo's without a walk through the bakery where you will pay your bill. In the bakery, you will find fresh-baked bread, scones, turnovers, brownies, cookies, and their award-winning cherry pie. They also offer meals to go including soups and quiches to enjoy at home.
They recently won Best Bakery and Desserts, Best Breakfast, and Best Catering in DoorCountyDailyNews.com's Best of Door County competition. Although more often than not we are enjoying Scaturo's for breakfast we also really enjoy their pizza night on Wednesday nights.
They are open daily throughout the year.
Door County Family Friendly Restaurant Honorable Mentions
There was a significant debate around the kitchen table as to what restaurants should make the ultimate list of family-friendly restaurants of Door County list. We finally agreed we could limit it to seven recommendations with a few honorable mentions touched on briefly below:
Kitty O'Reilly's, (Sturgeon Bay) – Kitty O'Reilly's is kid-friendly on their outdoor patio where there is a small sandbox area for kids and an oversized rocking chair as well as cornhole to keep kids entertained. The menu has many kid-friendly options.
Shipwrecked (Egg Harbor) – Shipwrecked has a kid-friendly menu and a decent-sized patio. They also brew their own beer for the parents to enjoy.
Sonny's Pizzeria (Sturgeon Bay) – We love the outdoor space that Sonny's has created next to the famous Door County Steel Bridge. Inside, they offer a nice salad bar and delicious pizza and pastas. Sonny's is often a good option for bringing in on nights we choose not to cook or dine out.
You tell us, was there a family-favorite restaurant in Door County that we missed? What is your favorite?