The Elroy-Sparta Bike Trail with its iconic train tunnels is a must-ride for any biker in the Wisconsin area. The three former railroad tunnels, built in the 1870s before being converted to bike tunnels in the 1960s, are magnificent and worth seeking out individually or collectively. We recently biked from Kendall to Sparta, a 26-Mile portion of the trail, that allows you to experience all three tunnels, and want to share our Elroy-Sparta Bike Trail Tips you should know before you go.
First, a little bit of background. The Elroy-Sparta State Trail is a packed, crushed limestone path made specifically for bicyclists. It begins in Elroy, WI, and ends 33.8 miles later in Sparta, WI the Bicycling Capital of America. The three tunnels along the trail were built using dynamite and hand tools in the 1870s for the Chicago & North Western Railway (C&NW). In the 1960s the tracks were removed and the land was sold to the state and the space was converted into the Elroy-Sparta State Bike Trail becoming the first conversion of Rails to Trails. This was the start of the Rails to Trails movement that has seen over 25,000 miles of railroads converted to trails nationwide.
We chose to ride from Kendall, WI to Sparta, WI as our mission was to experience each of the three iconic tunnels. Although you can knock out the entire trail by starting in Elroy, you can shorten your ride by about nearly 8 miles by starting in Kendall(fact check the distance).
We camped out at the Sparta Department of Natural Resources (DNR) Campground the night before. We rented bikes, purchased shuttle service, and our daily trail passes from Speeds Bike Shop in Sparta. The kind folks ensured we had a spare tire inner tube and pump then loaded our bikes on a trailer and drove us to Kendall. As we rode in the back of the coach through many winding hills, river valleys, and forested ridges of the Driftless region my daughter and I started to question whether we should have them drop us off at Wilton. Starting at Wilton shortens the ride to 17 miles but you miss Tunnel 1. We decided to forge on to Kendall.
As Spanish Explorer Hernán Cortes is said to have burnt his ships to motivate his crew, our coach had driven off leaving my daughter and I and our bikes with no way back to our car in Sparta but the 26-mile ride. The first few miles out of Kendall are at a slow but steady hill and we were starting to question what we had got ourselves into. However, after three miles the air started to cool off as we approached the massive doors of Tunnel #1. We paused to take some pictures and put on our headlamps then proceeded to walk our bikes through Tunnel #1. The tunnel doors are spectacular and the surrounding landscape really made us feel like we were on the set of a fantasy movie.
As you enter the tunnel you can see the exit in the distance, but the published distance of 1,300 feet in length seemed shorter in my mind than it felt in person.  The sides of the wall feel like they get more narrow the farther in you walk and the dripping water and jagged edges of the wall from blasting give it a creepy vibe.  We did not encounter many people which may have added to the feeling.  However, as we emerged triumphantly from tunnel 1 we had new energy and motivation to continue on.  It did not hurt that the trail slopped downward a bit from Tunnel #1 giving us a respite from the pedaling.
It is another six miles from Tunnel #1 to Wilton, WI where we stopped at the Hitching Post for some cheese curds and pizza to fuel us for the remainder of our ride.  They were kind enough to fill up our water bottles with ice and water as well.  There is a gas station/convenience store right next to the trail in Wilton too and is a great place to ensure you have snacks, fluids, and fresh batteries before progressing onward.
It is a short two-mile ride from Wilton to Tunnel #2.  Although tunnels #1 and #2 are very similar in size, we did enjoy the landscape around tunnel 1 better. If you are riding with people that can handle the full ride, I think it is worth seeing all three but you could still get an enjoyable experience starting in Wilton and experiencing just tunnels #2 & #3.  It is a 4-mile ride into Norwalk from the tunnel. I had read about a place called Lesa T's Cafe in Norwalk which sounded like it would be a good stop for ice cream before the final push.  However, it appears to be permanently closed, a good reminder to have a plan B or to check in advance.  Luckily we still had enough water to keep us hydrated for the trip to Sparta.
It is a three-mile ride to Tunnel 3 and there are some beautiful views along the way of the rolling hills of this Driftless region of Wisconsin.  We did hit a Geocache between Norwalk and Tunnel #3, if you enjoy Geocaching that could provide a good reason for a break.
The third tunnel was the only tunnel where we found several cyclists on either end milling around.  We could feel the temperature drop again as we approached. Tunnel #3 was dug beneath natural springs and water is dripping down throughout.   Each of the previous two tunnels were wet, but at this one, you could hear running and dripping water from much further away.  After hours of riding it did feel nice to have the cool air and water, but I was also thankful we had brought raincoats.  Many wet cyclists were trying to dry off outside the tunnel.  One couple with raincoats had just come out and were trying to dry their seats.  We realized a plastic bag would have been a good idea for that.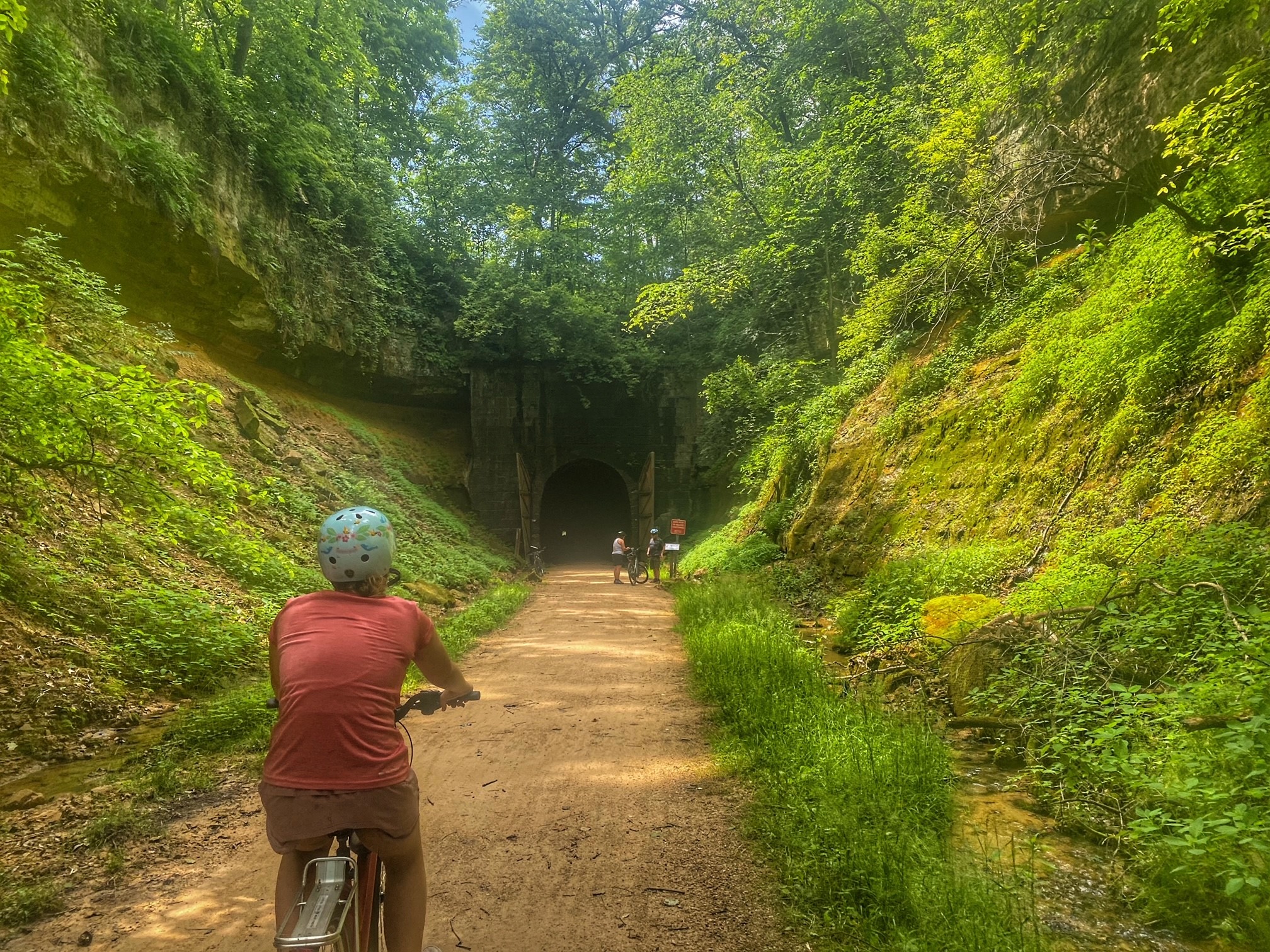 As you look through the doors it is readily apparent that this is a different beast than the first two.  This tunnel is 3,810 feet long.  That is nearly 3/4 of a mile or approximately 10 football fields long.  As we stepped in there were ruts carved in the trail from the water runoff and puddles in many places.  We walked slowly shifting our headlamp view from the ground in front of us to the tunnel ahead.  Sounds echoed through the tunnel adding to the fear factor.  Several times, I felt we had to be halfway there, but a look back confirmed we still had far to go.
This tunnel could be frightening to those who are prone to being claustrophobic or have fears of the dark.  Our 300 Lumens headlamp provided sufficient light, but it was still eerie, and the sounds, dripping water, and jagged walls add to those emotions as well.  After completing Tunnel #3 there are another 8 miles of trail to be conquered.  There are beautiful vistas along the way and this last leg was easy as we were powered by the great sense of accomplishment having survived the three tunnels and knowing we were nearly complete with this epic ride.
Some of these tips were covered but here are our tips on what you need to know before riding the Elroy-Spart Bike Trail:
Elroy Sparta Bike Trail: Know Before You Go:
Trail – The trail is not paved but a crushed limestone that may result in a slightly slower ride, or require more effort than biking on a paved route. Although there are no fast elevation changes, there are some steady uphill climbs so be prepared. You can experience the tunnels by riding just part of the route so look at the Elroy-Sparta Bike Trail map to choose a distance appropriate for your group. Lastly, be aware that the trail does require a daily or annual pass, we purchased ours at Speeds Bikes.
Open Season: The tunnel is closed from November 1 to April 30th.
Fear Factor – It is important to note that these tunnels can be scary for kids and adults alike, especially those that are prone to claustrophobia. Especially Tunnel #3 which feels longer than the published ¾ of a mile. Think about who you will be exploring with and determine if everyone is up for this adventure. There are no easy ways to avoid the tunnels if a member of your group has a change of heart.
Headlamps and Flashlights – The tunnels are very dark and the ground is uneven with deep puddles scattered throughout. Trying to navigate the tunnels without a headlamp and/or flashlights is ill-advised.
Batteries – Change out the batteries before you go, or bring back-ups. You do not want to be halfway through tunnel three and see your light dimming.
Raincoats and Plastic Bags – These were not needed for the first two tunnels but if you plan to visit Tunnel 3, the longest of the tunnels, we recommend raincoats and bags to cover your bike seat. There is a natural spring above it causing water to drip throughout the year. I was surprised to see how many people did not come prepared for this and came through absolutely soaked. We didn't think to cover our bike seats and found them to be soaked as we exited Tunnel 3. I recommend wrapping a plastic bag over your seat as you walk through
Mud Shoes or Boots – We had read that these tunnels can be very muddy. It had been dry for days leading up to our ride, but the tunnels were wet, especially Tunnel #3. We came prepared to wear appropriate footwear. There are deep puddles and sloppy muddy patches and in the darkness of the tunnel, you will not avoid them all
Sunscreen – Bring sunscreen. Although parts of the trail ride through a forest canopy, there are many open areas where you can burn easily
Bathrooms – There are few bathroom options along the way. I recommend packing some spare toilet paper for emergencies and using the facilities each time they are offered.
Please don't be scared away from riding these trails and exploring these former train tunnels. They are magnificent. Just be sure you plan accordingly before you go. Ride safe!