The Door County Peninsula is home to five exceptional Wisconsin State Parks that offer a variety of environments to explore.  The diversity of parks available to you in Door County ensures you have plenty of places to enjoy nature and get active with the family outdoors.  We highlight each of the state parks, calling out the key features and activities available at each.
Peninsula State Park
The most visited of the State Parks in Door County might just be the crown jewel of Door County's state parks.  Located on the bayside of the peninsula the park enjoys eight miles of Green Bay shoreline. 

With over 20 miles of trails, hikers can explore the park's varied terrain, from dense forests to rocky bluffs overlooking the water. Our favorite Peninsula State Park experience is to hike the picturesque Eagle Trail and then climb Eagle Tower for a panoramic view of the bay.  Check out our blog post "Eagle Trail the Premier Hike at Peninsula State Park" for more photos and our insider tips.  We love this trail because you hike down to the water level and can explore little caves in the bluffs.  At the conclusion you can tour Eagle Tower which was rebuilt a few years ago and the nicest improvement was the addition of a ramp to support greater accessibility.  We often try to finish a visit to Peninsula State Park with this panoramic view. We often enjoy the nice cool breeze from the top after a day full of hiking.
The park isn't just for hikers, for those who prefer to explore on two wheels, the park also has a network of bike trails. If you don't have your own bikes, head over to Edge of Park Rentals to rent bikes for the day. The park has both fine gravel paths and off-road bike trailers.  For families, I suggest riding the 9.65-mile Sunset Trail.  This fine gravel trail traverses Weborg Marsh, through cedar and maple forests, and to the cliffs along Green Bay.  Along this trail is the historic Eagle Bluff Lighthouse, which serves as a perfect rest stop along the ride. From here you can enjoy a beautiful view of the bay and tour this historic lighthouse.  This is one of eleven historic lighthouses in Door County.

Peninsula State Park is also home to several campgrounds, including both tent and RV sites. With amenities like showers, picnic areas, and fire rings, campers can enjoy a rustic getaway without sacrificing comfort. They book up fast so plan six months or more in advance for the greatest selection.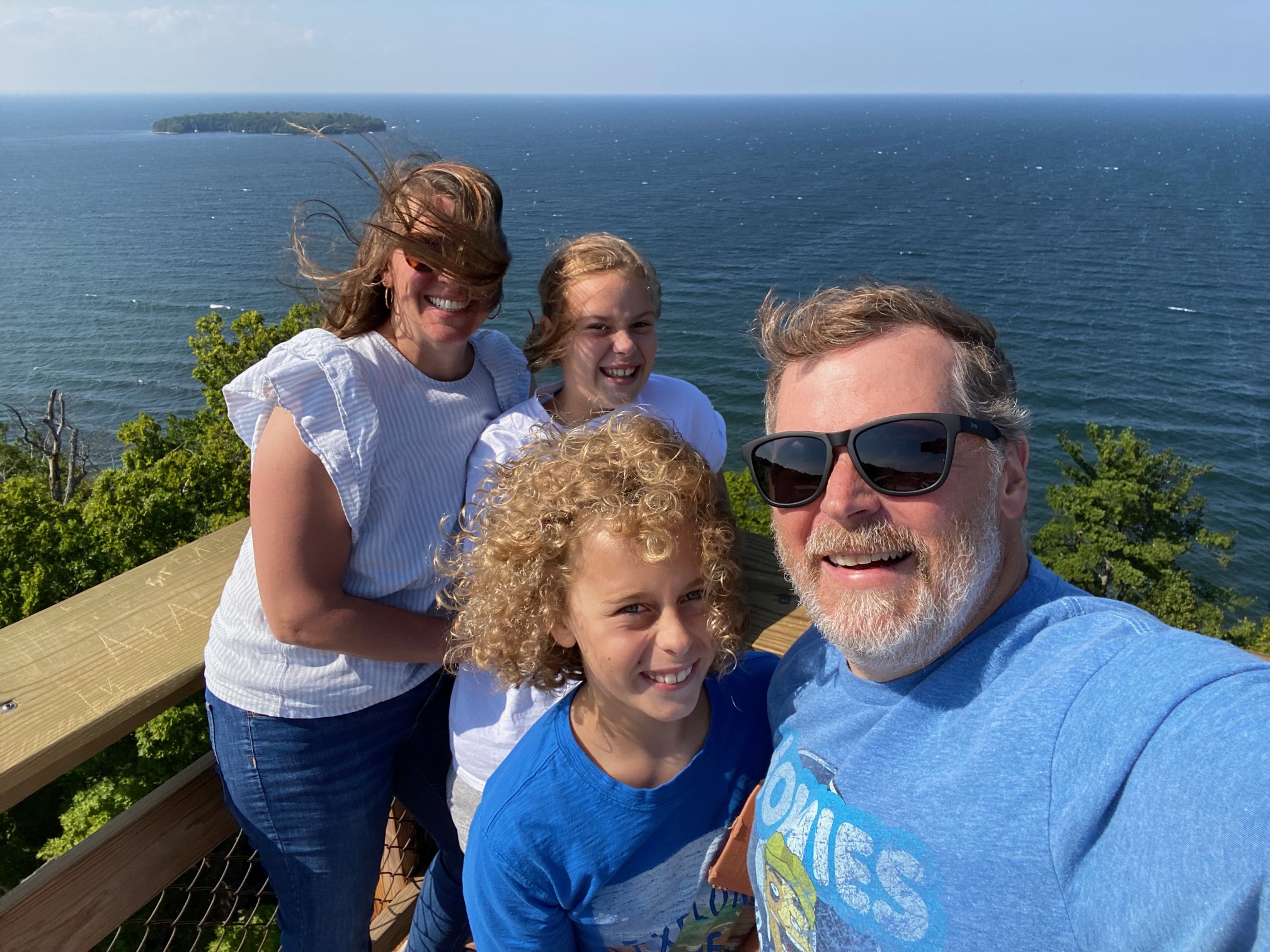 The Rock Island State Park
Rock Island is the least visited state park in Door County, which is why we call it The Gem Hidden at the Top of Door County. Visiting Rock Island State Park is not something you can do on a whim, it takes intention and planning, but you will be rewarded with a unique experience. The get to Rock Island, you first need to take the Washington Island Ferry from Northport. Then on the north side of Washington Island, you can board the Rock Island Ferry to access Rock Island State Park. Access is only available from Memorial Day weekend through Columbus Day weekend.
No cars are allowed on Rock Island so you will enjoy a serene environment. You will arrive at the historic Thordarson boathouse. The boathouse is also a mini-museum, celebrating the Thordarson family that lived on the island. Here you are greeted by quiet nature. The boathouse is stunning and beautiful to photograph.
There are 10 miles of trails. Our insider tip is to book a campsite and spend a night on the island, with several campsites offering stunning views of the water and nearby islands. There is something cool and a little eerie about camping on an island. There are limited resources on the island, so you need to be prepared to pack in and out your resources. Camping on Rock Island is a must for the avid outdoors person. After a night of camping make sure to hike to the northern side of the island to view the Pottawatomie lighthouse.
Overall, Rock Island State Park offers families a unique and memorable experience. With its historic boathouse, stunning natural beauty, and isolation from the mainland, it's a destination that's sure to capture the imagination and create lasting memories.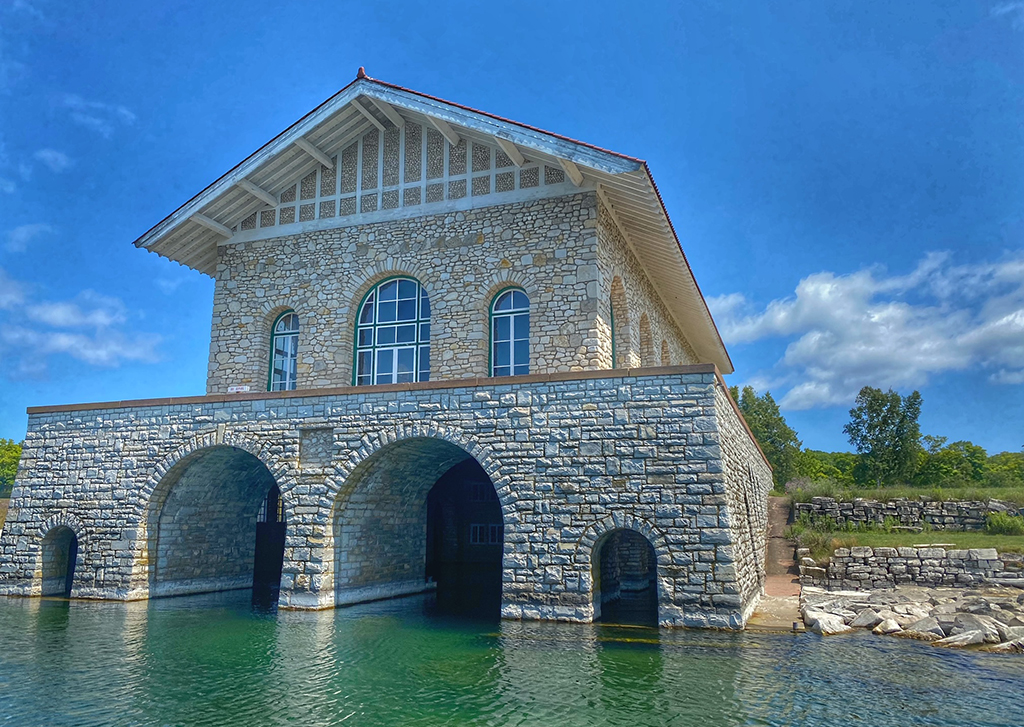 Newport State Park
We just recently fell in love with Newport State Park. Newport State Park is known for its peacefulness and serenity. It is Wisconsin's only wilderness park and is home to over 2,370 acres of forests, meadows, and wetlands. It is situated on the lake side of the peninsula.
When we visit Door County we often stay in Sturgeon Bay, so like Rock Island, Newport State Park is a bit of a commitment to reach. However, we believe the drive is worth it for hiking, camping, and stargazing.
Newport State park trails range from easy to moderate, so there's something for everyone. Our favorite hike is the Europe Bay Trail, connecting to the Hotz Trail that winds through hardwood forests and leads to a secluded beach with stunning views of Lake Michigan. There is a beautiful hidden inlet cove that has a tree overhanging the water that my family loves to climb on.
Newport State Park does offer camping but take note that like Rock Island all campsites are rustic backpack campsites.
One unique feature of Newport State Park is its designation as a Dark Sky Park from the International Dark-Sky Association, just one of 18 in the United States. The location of the park at the tip of the Door County Peninsula far from neighboring towns means that it has minimal light pollution and is ideal for stargazing. Families can bring telescopes or just lay out a blanket and watch for shooting stars and constellations. We have enjoyed laying there and enjoying the stars. Our tip is to visit in late July or early August during the Perseid meteor shower.
Newport State Park is Wisconsin's only wilderness park. When a state park is designated as a wilderness area, it means that it has been set aside to preserve its natural state and provide opportunities for visitors to experience a true wilderness experience. Wilderness areas are typically more remote and less developed than other areas within a park, with limited facilities and infrastructure.
In the case of Newport State Park, it has been designated as Wisconsin's only wilderness state park because it offers visitors a rare opportunity to experience a wilderness area that is largely untouched by human development. The park's interior is largely undeveloped and includes over 2,370 acres of forests, meadows, and wetlands, providing visitors with a chance to see a variety of wildlife and experience a true sense of solitude and natural beauty.
Overall, Newport State Park is a wonderful destination for families who want to get away from it all and enjoy nature. With its hiking trails, beaches, and dark sky preserve, there's plenty to do and see for families of all ages.
Whitefish Dunes State Park
Whitefish Dunes State Park is located on the eastern shore of the Door Peninsula and offers over 867 acres of sand dunes, forests, and Lake Michigan shoreline. The park's attractions include a beautiful beach, hiking trails, and sand dunes.
One of the park's highlights is the Old Baldy Trail overlook which can be accessed via the Red Trail and Yellow trail. Old Baldy is on the highest dune in the park, 93 feet above the lake level, and offers beautiful views of Lake Michigan.
Whitefish Dunes State Park is located next to Cave Point county park, which is a must-see. Make a day of enjoying these two parks.
Potawatomi State Park
Nestled on the shores of Sturgeon Bay in Door County, Wisconsin, Potawatomi State Park, is a haven for families who love the great outdoors. We often visit Potawatomi State Park in the winter as the trails are great for cross-country skiing and snowshoeing.

During all other seasons, our favorite location in the park is the Old Ski Hill Overlook.  From the late 1940s to the early 1980s visitors could ski at Potawatomi State Park.  Today, the old ski hill has been repurposed for hiking, offering visitors a challenging climb and stunning views of Sturgeon Bay and the surrounding landscape. At the top families can take in panoramic views of the park and surrounding area. We like to stand at the top of the ski hill during sunset to enjoy the beautiful panoramic view.
While you are at the top of the ski hill look for a large stone monument that is the marker of the eastern terminus of the Ice Age Trail.  The trail is a 1,200-mile hiking trail that winds through Wisconsin, following the path of the last continental glacier. The spot serves as a popular spot for hikers to take photos and commemorate the end (or beginning) of their journey.
As a kid, I remember coming to this park to climb the tower for a panoramic view of Sturgeon Bay.  The tower is still there but is closed as a result of wood decay. We read that a planning committee is working to either rebuild a tower like was done at Peninsula or to restore the existing tower. 
For families looking to hike the Ice Age Trail, Potawatomi State Park offers several miles of the trail, as well.  There are a variety of campsites available within the park and typically don't fill in as fast as Peninsula State Park.
In conclusion, Door County, WI, is home to five stunning state parks that offer something for everyone. From Peninsula State Park's endless activities to Newport State Park's wilderness experience, these parks are a must-visit for anyone who loves the outdoors. So, if you're looking for a beautiful place to explore, Door County's state parks are waiting for you.