Door County is one of the premier Wisconsin destinations for families and no family vacation is complete without an overindulgence of Ice Cream desserts. Although you could arguably create a Top 10 Ice Cream Shops in Door County, our family selected our top three destinations for ice cream in Door County. As we discussed our favorite ice cream destination there was clear consensus that three locations were a head above the rest. Interestingly enough in the 2,370 square miles of the Door County Peninsula, our top ice cream shops are located within 10 miles of each other.
Door County Ice Cream Factory & Sandwich Shoppe  (Sister Bay)
Located just north of Sister Bay in northern Door County is Door County Ice Cream Factory & Sandwich Shoppe. The shop has a nostalgic feel connecting it to its roots. It is located on the site of the old Al Mickelson's General Store which opened in 1912 and was known for its food and ice cream treats. It operated under many names from 1912 until it closed in 1988.
After a few years of sitting vacant, John Blossom III opened it as Door County Ice Cream Factory & Sandwich Shoppe and he later sold it to the current owner and former employee Todd Frisoni. Under Frisoni's stewardship, it has continued to succeed as the top destination for ice cream in Door County and our family's favorite ice cream in Door County.
Our family loves the vintage old-school ice cream shop feel. Their walls are lined with historic photos from the region. The ambiance is not enough though to be our favorite destination for Ice Cream. It is their wide variety of fun and unique homemade ice cream flavors that make it stand out. They make the most delicious homemade ice cream flavors including Death's Door Chocolate and Door County Cherry. Their ice cream is made on-site and they also make their own fresh waffle cones.
Cap off a fun family adventure with a stop at our favorite ice cream in Door County at Door County Ice Cream Factory & Sandwich.
Wilson Restaurant & Ice Cream Parlor (Ephraim)
Another Ice Cream shop that has a rich tradition is Wilson's Restaurant & Ice Cream Parlor in Ephraim, WI. Wilson's, established in 1906, is a picturesque old-fashioned soda shop and ice-cream parlor. Although I think best known as an ice cream destination, we find them to be one of the top family-friendly restaurants in Door county. Our kids are always motivated to eat a good dinner, knowing that ice cream awaits for dessert.
It is hard to imagine a more quaint destination for dessert in Door County. The building itself is iconic with its patio with red and white awnings and beautiful views of the bay. Our family loves taking our ice cream to go and walking along the shore, often timed with beautiful sunset views.
They offer a wide variety of ice cream flavors. Each ice cream cone comes with a jelly bean finish. The Jelly Bean helps slow the drip of ice cream but also serves as a nice surprise and the end of your ice cream experience. The restaurant and ice cream parlor are staffed by college students who are helping earn money for college. We enjoy looking at all the schools represented on the tip jar.
They also make their own home-brewed draft root beer which makes their Root Beer Floats the best in the peninsula. No trip to Door County is complete without a visit to Wilson's in Ephraim.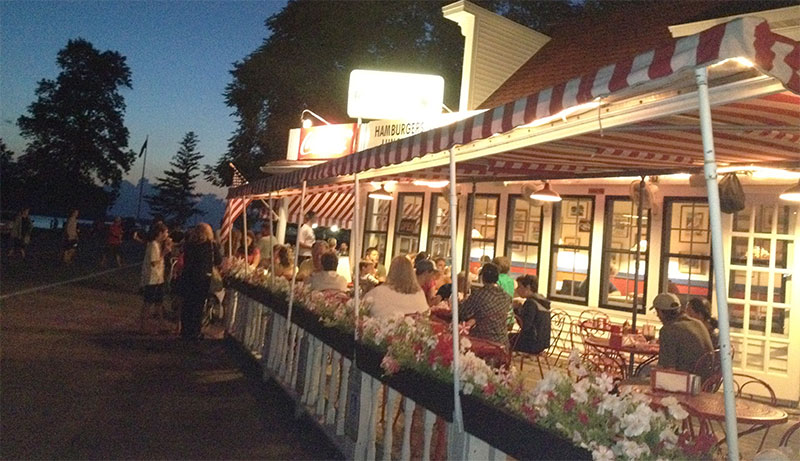 Not Licked Yet Frozen Custard (Fish Creek)
Is Frozen Custard considered ice cream? We don't know and hope we are not angering any ice cream purists by adding a frozen custard to our list. Not Licked Yet Frozen Custard, located in Fish Creek, is one of our family's favorite dessert destinations in Door County.
Not Licked Yet makes their own delicious custard and we are told they go through nearly 6 million pounds of milk a season to make their custard! We enjoy that there is a playground on site to keep the kids entertained while waiting in line for custard and to give the kids the chance to burn a little energy at the end of the day. We often enjoy our custard by the creek where our kids enjoy feeding the ducks.
My personal favorite was a Double Stuffed Oreo flavor that was to die for. I would also recommend the Sundae of Broken Dreams which is vanilla custard topped with caramel sauce, covered in pretzel crunch and fresh whipped cream.