There are unique AirBnB and VRBO rentals throughout the country, but Wisconsin's coolest location is the USS Cobia.  The USS Cobia is a fully restored US Navy Gato World War II class submarine located at the Wisconsin Maritime Museum.  Manitowoc has a history with submarines, during WWII 28 Submarines were built in the town of Manitowoc.
With a stay on the Cobia, you can expect an immersive and unique experience. Their USS Cobia AirBnB listing states "Your stay will be as unique as the submarine, no two visits are exactly the same". 
During our special behind-the-scenes private tour my son was encouraged to open up a torpedo door and slide into the torpedo bay which was a special experience. They allowed us to actually take the controls (don't worry they are disconnected from the actual dive planes) and simulate a dive, hearing the warning sounds that would have been heard by a submerged crew.  This is not your typical stodgy museum exhibit where you are expected to eagle eye your kids to make sure they are not touching anything. Here it was actually encouraged.
Before we even entered the submarine there is the USS Cobia Below the Surface exhibit which transports you to WWII where you experience what it would have felt like to be submerged in a submarine while depth charges as an actual mission from the Cobia's War Patrol Log is simulated. Our kids partook in this exhibit several times.
As part of your stay, you will enjoy a personalized behind-the-scenes tour of the submarine and your guide is on site all night should you need assistance. Overnight you are also free to explore all the museum has to offer including exhibits on WWII Submarine life, and shipwrecks.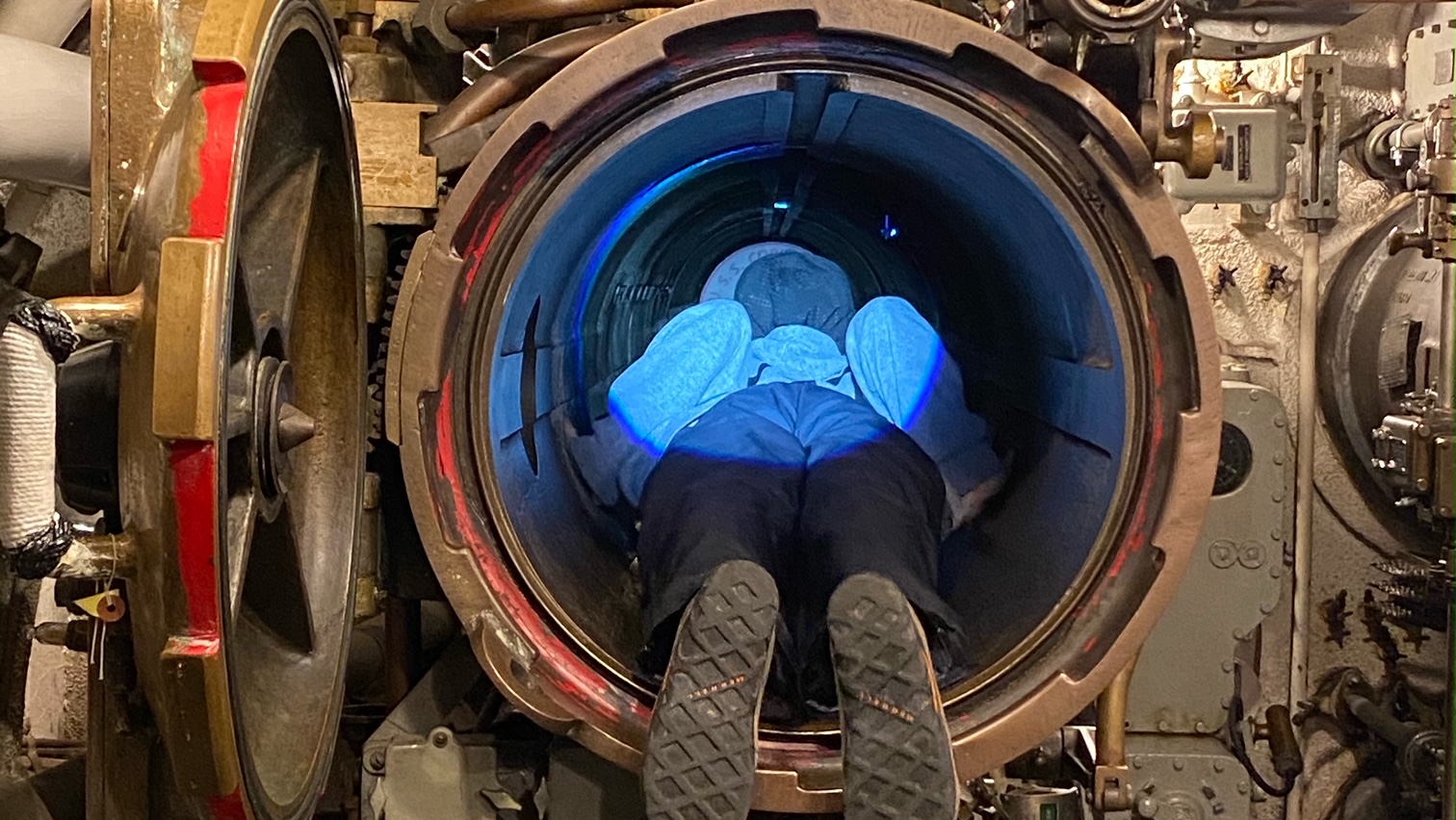 One non-submarine oriented exhibit our family enjoyed was the Chief Wawatam Steam Engine.  The exhibit is like entering the engine room of a Great Lakes ship from the early 1900s.  The engine is from the Chief Wawatam car-ferry which was built in 1911 and used to ferry vehicles across the Straights of Mackinac.  The working engine is a 65-ton steam engine that you can control.  Enjoy turning it from Full Ahead to Full Stop and watching how the engine works.
This is best suited for groups or a few families traveling together.  The latest pricing we saw was $714 / a night which for their recommended minimum guest count of 16 is just over $40 a night. Additional guests are $50 a night.  When we visited they really sold the experience with guests receiving their bedding and toiletries in a World War II esque bag. They can accommodate up to 65 guests.  As of this writing, the USS Cobia has a perfect five star rating on AirBnB.
We went out on a limb and named this the best AirBnB in Wisconsin.  Can you think of a better one?  We would love to hear if there are any contenders we should check out!